Today, I cycled into Chichester to buy one of these at PC World:

I parked my bike near Staples and popped in to see if they had the same sleekly defined Jetbook ereader. They didn't; but they did have this Archos model, for much the same price: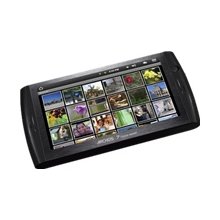 I played around with it for a while, trying to entice it to read the SD card I'd brought for the occasion; but my heart wasn't in it. This tacky bit of kit was made of the sort of plastic Airfix models specialise in, and the so called 'touch' screen needed jabbing repeatedly to register my presence.
Finding the Jetbook in PC World, my heart sank as I encountered more of the same black plastic; but I was initially quite taken with the quality of the LCD text display. However, I struggled with the controls, and, again, my SD card failed to register. While I was grappling with various buttons, a gentlemen at my side tapped me on the shoulder and asked if I knew how to switch on the device he was testing. I glanced in his direction and saw one of these: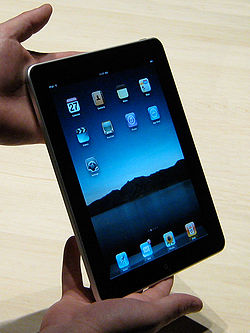 I reached across and touched and stroked this glistening piece of hardware. Just to show off, I revealed the 'bookstore', replete with hundreds of volumes, and opened one. I flipped the pages this way and that. Both of us became utterly transfixed by the staggeringly beautiful way the leaves of this virtual book curled, and then lay flat. The readability was absolute. Compared to the action and look of the frankly hideous artefact I found it hard to believe moments earlier I had been contemplating parting with money for, this was high art. As for the dedicated ebook readers with their 'e-ink', which were scattered around the same aisle, it was beyond comprehension to me how anyone was able to tolerate the black page 'intermission' experience every half minute while still maintaining their sanity.
At that moment, a PC World minion appeared at my side and asked if I needed assistence. I laughed mirthlessly. I said the best bit of assistence he could provide would be to display the piece of tack I had intended to buy as far as possible from the svelte object the gentleman next to me was hovering over with disgusting eagerness. How any commercial outlet of repute could place such disparate objects in such close proximity beat me. He nodded agreably. When I asked him to show me a page turn on the Jetbook, he laughed nervously as the LCD screen juddered into life. I then reached over and showed him one on the iPad. Did he seriously expect anyone to actually buy the sort of cracker infill represented by the 'Jetbook' when faced with this sort of competition?
Cackling manically, I turned to leave. The gentlemen at my side grasped my arm, excitedly.
"I must have one of these", he said, "even if it means getting divorced."
"Indeed", I quipped. "You speak sooth."